Calhoun Falls, South Carolina
A little info on Tri S Ranch -
Pre -revolution to re-establish date of 1890 to present 2010
There were 3 previous generation prior to 1764 but we will start1890.
That's 300+ years of farming, ranching and war's around here, if your counting..
______________________________________________________________________________
A Southern Ranch born from our family settlement a few miles down the road.
The re-establish date of 1890 for Tri S Ranch would have been a little earlier but South Carolina's Sons and Daughters had a few wars to fight first ...
Like the whole Cherokee Nation, the British Empire and of course, helping out soon to be Texas at the Alamo.
Then there was that War between the States thing. That held us up a little longer than expected.... Gen. Sherman's march to the sea and stealing all the good mules and horses didn't help one bit, Yet history stands.
Jefferson Davis held his first and THEN his last war cabinet meeting 15 miles from here at Abbeville, S.C..And J.C.Calhoun lived just below us.
All that's over...and done with now...thank God..
After the Reconstruction Years...We started to rebuild once again.. We tell and show you this bit of history because we are not your "Johnny come lately in it for the fast "buck"..little humor there..
This Ranch was forged by the hammer and tempered by fire across 9 long Generations of Scotch and Irish to simply make a living and raise a family. That we have done and at present, still doing with 2 more generations coming on behind me now.
People who purchased horses and cattle from us over the years still drop by occasionally to visit, knowing that we are still here...in the same place... raising Quarter Horses and cattle.
Our horses are well bred, smart, strong, and won't quit on you....
Some go to show, some to work ...all can do both..
When the going get's tough, It's just another day for us...
We don't know it all, don't claim to and never will, but we do know what works....and why..
Tri S Ranch - Better times of 1890's onward.

Ranch work, fire branding cattle, roping calves, riding fences and training horses have been a part of Tri S Ranch for over a 100 years.
And yes, Southern cowboys were doing this while Texas was getting their Republic.....now look at them...Just goes to show what a few good cowboys can do when you rile them up........
Our working cattle operation ( then of 4000+ acres ) helped turn out many all-round horses and cattle. Hunting stray cattle, and checking fences gives a person and the horse some time off and some much-needed rest. You can only stay in a training/working pen so long and can only teach a young horse so much in one.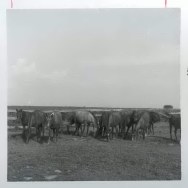 Bunch of young horses to break
Horse training can range from halter breaking to a finished well-rounded cutting or roping cow horse. Out of the countless number of horses started over the last few decades, the all-round winners have been the young horses who have had the trail training (tracking stray cattle) added to their every day ranch work. This type of training gives a horse the steady hands-on experience with ever-changing surroundings.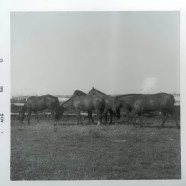 Group of horses to break
Turning, stopping, backing, and allowing the horse to read new terrain along with your body movements at any given time reach deep within the horse's mind. All of the sights and sounds encountered on the trails allow the young horse to make the right decision naturally and quietly with your direction. This type of riding gives the horse something to think about other than just day to day cow work.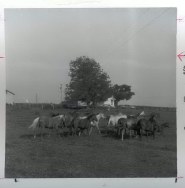 Group of fillies to train
When the horse can't come up with an answer, the first place the horse will look is to you, the rider. Of course, this is the 6 second version. See
Q&A
on starting a young horse, which is the most important part of the horse's training.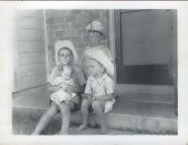 Group shot in Texas
That's why 9 out 10 of our horses never think about bucking when we get on the first time. We don't even look for it to happen, if we did our job right. That's not to say they won't..
Some of the horses that came to us over half a century ago out of Montana were down right outlaw broncs, man killers, and they would test anything that tried the saddle.
Yet they would come around after a while and make rock hard great cow horses...that is after being put between two big mules..so to get near them or on them..Then everything would be fine...Like I said....those were the early years...Different times and different ways..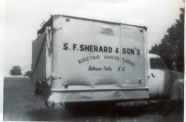 Yep, horses were hauled inside
All bucking does now is show the ground work wasn't done, and a little needs to be said about it to tell how important the first ride really is to a young horse.
Now that people have more time and money horse training became easy. Compared to way back when a box car of wild horses would come in one day and be sold the next...These horses were as wild as the wind..They had to be handled in one day and be able to be sold the next and lead home by the new buyer...which we did and they did..
Restocking the South with horses after all the conflicts were over went on for sometime by many people..For our area we choose Montana horses by the rail road box car loads.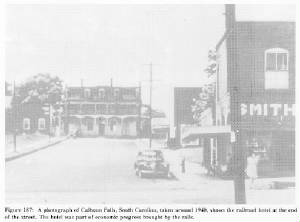 Calhoun Falls
People were different back then. Hard times brought about hard men. Not mean, but a just get the job done type of man and for the horse world it was know as bronc busters.
The boss would tell them when hired what he wanted and they did it, no questions asked..If that's the job you claim...do it..
These men didn't run to a web site or a clinic, or a know it all forum, nope, they roped the horse and snubbed them to a post, covered their eyes, saddled them up and got on and did their job. In 10 to 30 seconds (sometimes longer but not much) they would be riding and turning and stopping these horses. That horse was ready to start training...and the riders could draw a nice fat pay check to feed their family.
$48.00 was a big check for a weeks work in the round pen back in the 50's & 60's and that was before tax's.....Wow, I was going to get rich, and all I had to do is ride a horse !! Imagine that...
If we didn't ride then usually there was always a man standing around next to the breaking pens that was ready to take your place real quick...Knowing the bronc buster could get busted up leaving a job to be filled.
Jobs were not easy to come by but you could always pick cotton. The areas Irish could and would and did ride anything with legs on it...it didn't matter...
That is a job I would not want to go back to....and spect if the truth be know, there's quite a few men out there that wished they had never gone there in the first place...
Horse training can be easy but at the same time can turn deadly real quick to the knowing and unknowing rider. There are different ways of training but there is still the same way of a horse bucking and putting you on the ground. That has not changed..
A rank horse breaking out into a bucking hissy fit from a walk, trot or lope will unseat you. Mostly the hard way... by surprise..with no warning...That's when and where you can get hung up. There are few natural bronk riders out there as most learned from hitting the ground...First rule in horse training....don't fool yourself...the horse knows, and will show you your error.... then again...you might get lucky...maybe.
So before you make that leap of faith onto the back of a 1000 pound or more horse, visit our
trainer link
page for more information.
Find out and learn how to help yourself and your horse stay safe and out of trouble.
Besides Tri S Ranch's info. there is a ton of information out there that can help you stay safer. If not for yourself, at least for your family. Sometimes, there are no second chances one is all you get....
Reguardless of what you see on TV, horse training is a serious business...
When dealing with horses of any type...
Be smart and be safe first.
Poncho Villa
Poncho visits (around 1915) to Calhoun Falls in the early years were always exciting.... We still use the same water trough today at Tri S Ranch that watered his band of horses then before making his trip back to Mexico....What the people didn't know was that while he was in Calhoun Falls, S.C., the U.S. Goverment was down in Mexico looking for him and his army..
He and his men were kicked back at the MillWood Inn In Calhoun Falls, S.C. - pictured below...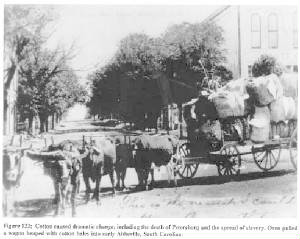 A 3 story Hotel on Top of the Hill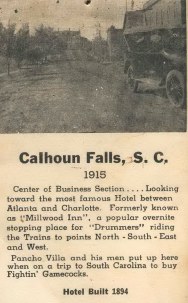 A Post Card looking up the street of Calhoun Falls back then.
It doesn't look much different today...They did add 1 red light.
Here's a better picture of the MillWood Inn 25 years later..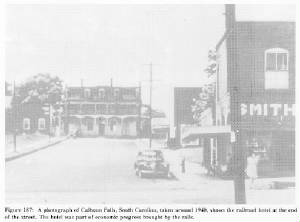 No ticket for the car in front of the fire hydrant..
------------------